Dentures - Falls Church, VA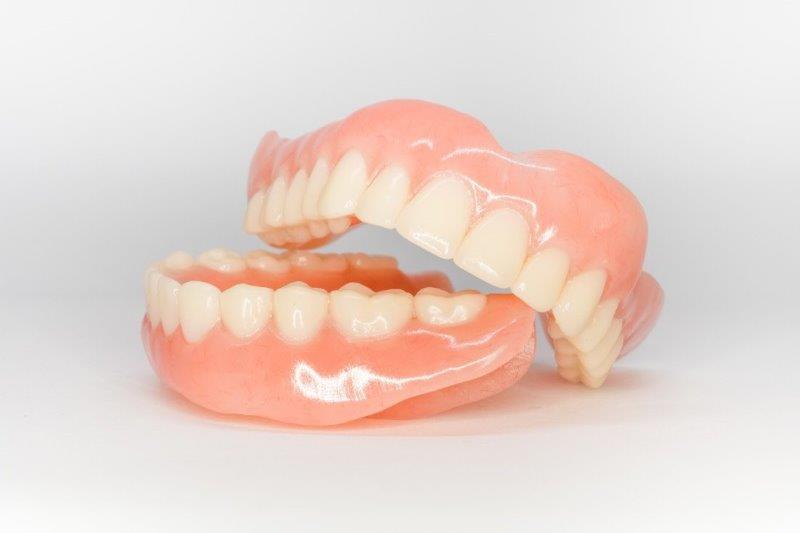 Dentures provide a centuries-old method of teeth replacement. Advancements in technology and design also make permanent dentures a hassle-free option for having an attractive smile and a proper bite. Today, you can discreetly replace your teeth without the hassle or other problems associated with false teeth of past generations.
Our dental team provides affordable dentures in Falls Church and helps patients understand the benefits of permanent dentures. With extensive training and advanced state of the art equipment, Dougherty DDS is recognized as a leading provider of dentures in Falls Church.
WHAT ARE DENTURES?
Dentures are natural-looking replacement teeth that are removable. There are two types of dentures: full and partial.
Full dentures are given to patients when all of the natural teeth have been removed. Conventional full dentures are placed after the gum tissue has healed, which can take several months. Immediate full dentures are placed immediately after the teeth have been removed and may require frequent adjustments during the first couple of months of use.
Partial dentures are attached to a metal frame that is connected to your natural teeth and are used to fill in where permanent teeth have been removed. Partial dentures are considered a removable alternative to bridges.
Are You A Candidate for Our Falls Church dentures?
Dentures are not for everyone. If you're interested in learning more about dentures and want to know if they are the right choice for you, please schedule an appointment. Our team will be happy to answer any questions you might have, and can determine the best course of treatment for your ongoing dental health.
TRADITIONAL DENTURES
Traditional dentures are made with a gum-colored base and artificial teeth devised to match your natural tooth enamel for realistic results. Your prosthetic device will be customized to fit securely and comfortably over your gums. Dentures rely on suction and a dental adhesive to hold them in place. Traditional dentures should be removed nightly for cleaning and to allow your gums to rest while you sleep.
When designing your denture, we will take a series of x-rays and impressions to create a 3D model of your smile. This model will be sent to a dental lab, where technicians will manufacture your customized denture. The fabrication process typically takes two to three weeks. During your follow-up visit, we will check that your denture fits and demonstrate how to remove and care for the restoration at home.
PARTIAL DENTURES
When tooth loss occurs in multiple areas of your mouth, but you still have a healthy amount of remaining teeth, we may recommend a partial denture. Much like traditional dentures, partial dentures also have a gum-colored acrylic base and natural-looking artificial teeth, but your device will be affixed to a metal base with tiny claps that secure to nearby teeth to hold the denture in place. Partial dentures can be easily slipped on and off for easy cleaning and to allow your gums to rest at night.
IMPLANT-SUPPORTED DENTURES
Rather than affixing to nearby teeth or resting on your gums, implant-supported dentures are sustained by four to six dental implants in either the upper or lower jaw. Before the denture is designed and placed, we will insert tiny implant posts into your jawbone through a surgical procedure. Over the course of four to six months, your jawbone will undergo a process known as osseointegration, giving the implants time to bond with nearby tissues.
Since dental implants operate much like natural tooth roots, your jawbone will not suffer from tissue degeneration (a side effect of tooth loss). Compared to traditional dentures, implant-supported dentures provide longer-lasting results, unparalleled support and durability, improved comfort, and improved oral health.
Schedule A Falls Church Denture Consultation
To learn more about our tooth replacement solutions, contact us online or call our dental office at (703) 532-3300. Our team can discuss with you in detail our several different types of Falls Church denture treatment options available to help you make an informed decision about your smile and oral health.
 
William V. Dougherty III, DDS - Falls Church Dentist 
200 Little Falls St #506, Falls Church, VA 22046
(703) 532-3300