Laser Dentistry - Falls Church, VA
Periolase LANAP - NEW Alteranative To Traditional Gum Surgery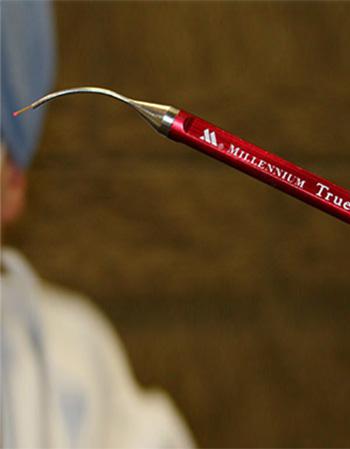 One of our most popular treatments is the LANAP Procedure.  This laser-assisted new attachment procedure allows our team to provide a less painful, more effective alternative to treating gum disease.  With extensive training and high tech equipment, our laser periodontal surgery allows individuals to take advantage of this newer, cost effective gum treatment option at our Falls Church office location.
LANAP stands for Laser Assisted New Attachment Protocol. It is a state-of-the-art protocol for treating moderate to severe periodontal disease (gum disease) and is a great alternative to traditional gum surgery. Periodontal disease is caused by a combination of bacterial infection and excess force from an unbalanced bite or habits like clenching and/or grinding. With the LANAP protocol, a dental laser is first used to clear inflammation, disinfect, and seal the gum tissue around each tooth. Afterward, your dentist will check your bite and make minor modifications to the tooth structure to help balance out your bite. When both surgical appointments are completed, a custom-made night guard is imperative to the healing and long-term management of your periodontal disease. Discomfort after the procedure is minimal.
Traditional gum surgery requires cutting into the gum tissue and sewing it back together, which is much more traumatic to the tissue. Traditional gum surgery also usually results in an overall loss of tissue coverage on teeth which can occasionally result in dental sensitivity. LANAP is the first and only dental laser treatment that is FDA approved for periodontal regeneration. Regeneration occurs when new bone and gum tissue grows and attaches to the tooth. This is a benefit that LANAP protocol has over traditional gum surgery. The dental laser used in the LANAP procedure can also be used to treat cold sores and for sterilization during a root canal and in sockets after extraction.
HOW DOES PERIOLASE WORK TO IMPROVE THE HEALTH OF MY SMILE?
Before your dentist begins your LANAP procedure, your teeth are thoroughly cleaned, removing any tartar in an effort to make the tissue as healthy as possible. During your treatment, your dentist uses the PerioLase laser to find any diseased tissue in the pockets created from periodontitis. The laser kills pathogens (the bacteria causing the disease) without harming the good cells.
WHAT IS RECOVERY FROM PERIOLASE TREATMENT LIKE?
Following your procedure, you will experience less swelling or bleeding, and more comfort than with traditional periodontitis surgery. Recovery time is also faster, getting you back to your daily activities sooner. LANAP provides a pleasant dental experience and better outcomes than any other conventional periodontal surgery.
HOW DO I KNOW IF PERIOLASE IS RIGHT FOR ME?
If you have been diagnosed with periodontal disease, you are most likely a candidate for PerioLase. PerioLase is also a safe alternative to conventional surgery for those who suffer from other health conditions including heart disease, diabetes, or for those who might be pregnant. PerioLase may be recommended if you have had periodontal treatment in the past and are experiencing symptoms again. Once you have had gum disease, it is common to have a relapse. Consider PerioLase as a safe alternative to traditional periodontal surgery, and ask our dentist if PerioLase LANAP is the best option for you.
Learn More About Our falls church Laser Dentistry
At Dougherty DDS, our dental team always keeps the comfort of their patients in mind. Advanced dental lasers allow us to perform procedures in a safe and precise manner.  Call our office for your laser dentistry appointment in Falls Church today!
William V. Dougherty III, DDS - Falls Church Dentist 
200 Little Falls St #506, Falls Church, VA 22046
(703) 532-3300